POSTGRADUATE SCHOOL ON PSYCHOLOGICAL EVALUATION AND COUNSELLING
Dir. Prof. Lucia Boncori
Meeting:
Emphasizing and improving human resources in public and private organizations
Sapienza Università di Roma – Palazzo del Rettorato - aula del Senato accademico
P.le Aldo Moro 5
Objectives:

Sharing knowledge about main techniques and instruments presently in use for recruiting and selecting people in large organisations

Comparing personnel selection practices in use for different targets

Improving guidance professional competences

Promoting a culture of continual training

Finding fundamental factors of organisational well-being and disease prevention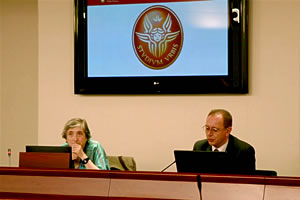 Founding principles:
Personnel selection should ensure both the organisation success and personal consideration for people asking for a job

Guidance may greatly help employees to use learning opportunities and improve their professional competence

Training and guidance should be provided continually, to achieve effective results of permanent learning

Continual training may include interventions aimed to prevent work-related stress and to improve the organisation well-being

Personal satisfaction and job success are positively related.
Due to number and quality of interventions, only the three first objectives have been retained, reserving for a further meeting the last ones.
Gave support to the meeting, ensuring their own or their staff participation:
| | |
| --- | --- |
| Gen. C. D. Apostolo | Direttore del Centro Nazionale di Selezione e reclutamento dell'Arma dei Carabinieri |
| Ten. Col. Paolo Cianci | Capo Ufficio Reclutamento e addestramento della Guardia di Finanza |
| Dott. Giovanni Cuomo | Direttore Generale della Sanità della Polizia di Stato |
| Ten. Col. Pio De Rosa | Dirigente Ufficio di Psicologia Applicata - Previmil |
| Ten. Col. Filippo Di Pirro | Stato Maggiore dell'Esercito Italiano |
| Dott. Denise Ferravante | Ricercatrice ENEA |
| Dott. Ferri | Dirigente superiore del Centro di selezione psicotecnica della Polizia di Stato |
| Dott. Luigi Lucchetti | Dirigente della Sanità della Polizia di Stato |
| Ten. Col. Luigi Iacono | Accademia Aeronautica di Pozzuoli |
| Magg. Danilo Panico | Scuola Ufficiali - Arma dei Carabinieri |
| Dott. Daniela Pavoncello | Ricercatrice ISFOL |
The Meeting Proceeding will be issued in September. Herewith follows the Proceedings Content Table.
Part I
Discussion about personnel selection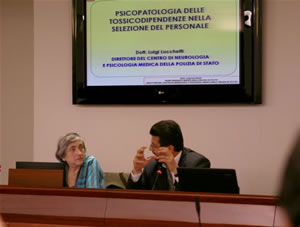 PROFESSIONAL LEVEL AND RATIO APPLICANTS/ENROLLED IN SELECTIONS
SELECTION PROCEDURES: DIFFERENT TESTS ORDER OR «FILTERS»
PROFESSIONAL QUALIFICATION IN THE SELECTION STAFF
THE SELECTIVE EVALUATION CONCLUSION: JUDGEMENT OR DIAGNOSIS?
SELECTION INSTRUMENTS
Psychometric tests
Minimum competency and basic achievement tests
Cognitive abilities
Personality questionnaires
Further paper and pencil evaluation tools
Interview and projective techniques
CONCLUSIVE REMARKS

PARTE II
Specific Contributions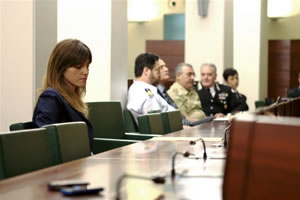 SUBSTANCE RELATED DISORDERS IN PERSONNEL SELECTION
(dott. Luigi Lucchetti)

GUIDANCE IN ITALIAN ORGANISATIONS. A RESEARCH'S RESULTS.
(dott. Daniela Pavoncello e dott. Daniela De Gregorio)
SUCCESS AND SATISFACTION IN ACADEMIC CAREERS. PREDICTIVE VALIDITY OF TWO ITALIAN STUDIES (Prof. Lucia Boncori, Dr. Ph.D. Assunta Marano, Dr. Arianna Ceroni)